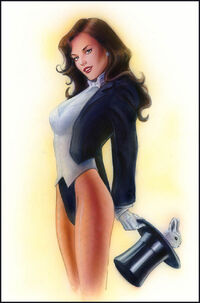 Zatanna is a playable character in Injustice: Return of the Gods, sequel to Injustice: Gods Among Us. She was confirmed in her own story trailer.
Events of Injustice
Edit
Super Move
Edit
Zatanna takes off her hat, and her opponent and is sucked into a dimension filled with acid. They let out a scream of anguish, and a creature resembling a squid attacks them. Zatanna reaches in, pulls them out, and flicks them away.
Character Trait
Edit
Zatanna surrounds herself with mystical energies which minimizes attack damage.