The Light Knight

Vital statistics

Position
Heroes
Age
24
Status
Alive

Physical attributes

Height
6'0"
Weight
200lbs
The Light Knight
 is a playable character in Injustice Knights Of Tomorrow
. He is classified as a gadget User
.He is the most commonly played in story mode.
Biography

Edit
As a boy Toon Fourtyfore was an orphan like Bruce Wayn and grew up with him in the same orphanage and even found out he was Batman and was always looking up to im until one day The Batman was not seen for two months and he streets of Gotham were full of crime and knowing all about the Dark Knight Ton went to his Cave put on Batman's Ice suit personalized it a bit and becam Th Light Night of Gatam City.
Powers and Abillities

Edit
Bravery 

Peak Human Contidion

Peak Human Strength

Gadgets

Grapple Hook
Character Trait
Edit
Toon's Character Trait is that he can change the lightnig in stages to make it harder for the othr player to see.This can be used 10 times per match.
Super Move
Edit
Coming Soon..........
INTRO/OUTRO
Edit
Coming Soon.............
Toon's Costume is a White Batman suit and is personalized do make it unique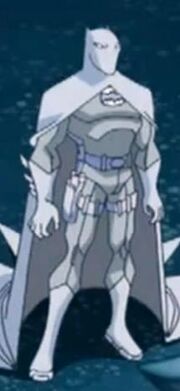 Alternate
Edit
Coming Soon..........
Ad blocker interference detected!
Wikia is a free-to-use site that makes money from advertising. We have a modified experience for viewers using ad blockers

Wikia is not accessible if you've made further modifications. Remove the custom ad blocker rule(s) and the page will load as expected.