This article, Superboy (League of Light), is property of Cartoon44. Please do not edit this article unless given permission to do so.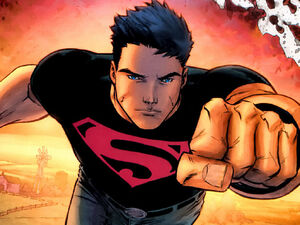 Superboy is a playable character in Injustice: League of Light.  
Biography
Edit
TBA
Events in Injustice
Edit
TBA
Supermove
Edit
Superboy crouches down. He shoots up into the sky with high jump boost, slams back down to the ground with his feet and fists, knocking the other player to the ground. The opponent tries to raise his head up, but Superboy slams it back down to the ground. He puts his foot on the opponent's back and slams it.
Character Trait
Edit
Superboy becomes engulfed in red. He rages at the other player, increasing his strength.
TBA
Ad blocker interference detected!
Wikia is a free-to-use site that makes money from advertising. We have a modified experience for viewers using ad blockers

Wikia is not accessible if you've made further modifications. Remove the custom ad blocker rule(s) and the page will load as expected.