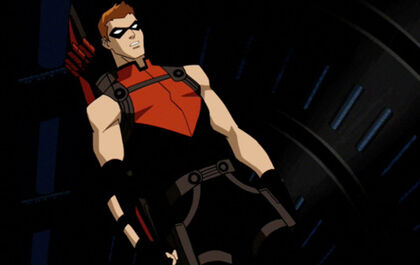 Speedy is a playable character in the Tenn Titans GO! He is an acrobat and is voiced by Crispman Freeman.
Events in Teen Titans GO!
Edit
Finshing Move
Edit
Speedy shoots a zip-line bow into his opponent's chest. He zips towards them with an explosive arrow in his and kicks them while shoving the explosive arrow in his face, causing them to fly back, with the zip-line still in them. Speedy then grabs the line and swings them around while setting an electric arrow down. He lets go of the line, letting his opponent fly right into the electric arrow.....
Ad blocker interference detected!
Wikia is a free-to-use site that makes money from advertising. We have a modified experience for viewers using ad blockers

Wikia is not accessible if you've made further modifications. Remove the custom ad blocker rule(s) and the page will load as expected.