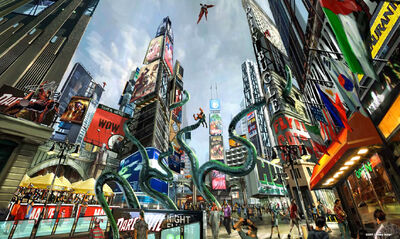 New York City is a stage in Avengers: Heroes Disassembled. It was one of the early revealed stages. It was revealed along with the second character reveal of Iron Man and Wolverine.
Role in the Story
Edit
Stage Transitions
Edit
The opponent is knocked into a billboard with explodes, sending them flying towards the Daily Bugle. They crash through the window and continue to crash through the floors, including J. Jonah Jameson's office, until landing on the roof.
The opponent is knocked back through the ceiling, and the other character chases after them. After getting back inside the building, the other character knocks the opponent into the elevator. They continue to beat them around until the elevator reaches the bottom and they are thrown back into the original arena.
New York City is the only stage to actually exist in real life
The Daily Bugle was originally considered to be its own stage, but it was later put into New York City instead.
Ad blocker interference detected!
Wikia is a free-to-use site that makes money from advertising. We have a modified experience for viewers using ad blockers

Wikia is not accessible if you've made further modifications. Remove the custom ad blocker rule(s) and the page will load as expected.