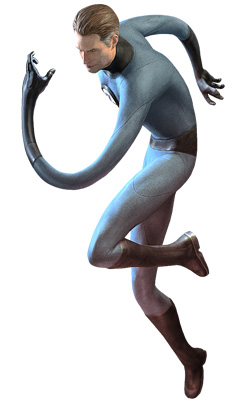 Mr. Fantastic is a playable character in Avengers: Heroes Disassembled. He, along with Invisible Woman and Human Torch, was confirmed in the Fantastic Four story trailer. He is a Power User. He is voiced by Dee Bradley Baker.
Role in the Story
Edit
S.H.I.E.L.D. Missions
Edit
Super Move
Edit
Mr. Fantastic punches his opponent before wrapping both of his arms around their head and slamming their head onto the ground. He presses a comm link in his ear and tells Herbie to activate "Project: Fantastic". When the opponent tries to get up, a satellite from space blasts an extremely strong laser on them.
Character Trait
Edit
Mr. Fantastic reaches over and grabs his opponent's ankle. He yanks them to the ground and pulls them over to him. He lifts them into the air and slams them into the ground.
Intro/Outro
Edit
Intro: Mr. Fantastic is driving in the Fantasticar, arguing with Herbie. Eventually he gets frustrated and tells him to land. The Fantasticar lands in the arena and Mr. Fantastic jumps out.
Outro: Mr. Fantastic rubs his temples in frustration before calling the Fantasticar. He says "I'm getting too old for this." Before jumping into the Fantasticar and flies away.
Character Ending
Edit
"After miraculously surviving Iron Man's attack, he toppled him and his New Order. After picking up the pieces and rebuilding the world, Mr. Fantastic began recruiting all young heroes, and he used his wealth to re-open the Xavier Institute. Within two months, Reed had created Future Foundation Inc. and was spreading peace across the Earth."
Mr. Fantastic was the least requested character of the Fantastic Four.
Mr. Fantastic is 1/5 major characters to die or have been dead in the story mode.
Dee Bradley Baker previously portrayed Mr. Fantastic in Avengers: Earth's Mightiest Heroes.
The Future Foundation is only mentioned in Mr. Fantastic's ending, but none of the other four.
Alternate Costumes
Edit
New Order: Mr. Fantastic's New Order costume is unlocked by using an archive armory key.
Ultimate: Mr. Fantastic's Ultimate costume as the Maker is unlocked by completing all of his S.H.I.E.L.D. Missions.
Future Foundation: Mr. Fantastic's Future Foundation costume is part of the Season Pass.
Ad blocker interference detected!
Wikia is a free-to-use site that makes money from advertising. We have a modified experience for viewers using ad blockers

Wikia is not accessible if you've made further modifications. Remove the custom ad blocker rule(s) and the page will load as expected.