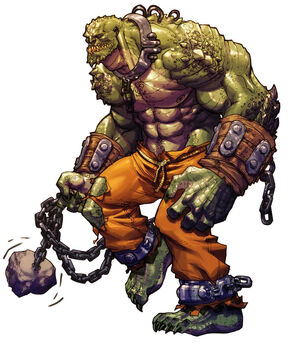 Killer Croc is a playable character in Injustice: Return of the Gods, sequel to Injustice: Gods Among Us. He was confirmed in the second story trailer, where he was seen fighting against Hawkgirl, as the trailer also confirms her. He was also see standing with Poison Ivy.
Events of Injustice
Edit
Super Move
Edit
Croc slices his opponent in the face before grabbing the ball chained to his hand cuffs and swinging it into their head. When they try to get up, he tackles them, slicing them several more times.
Character Trait
Edit
Croc's attacks become stronger, but they cause him to move slower.