This article, Justice League: Anti-Life, is property of Artemis Thorson. Please do not edit this article unless given permission to do so.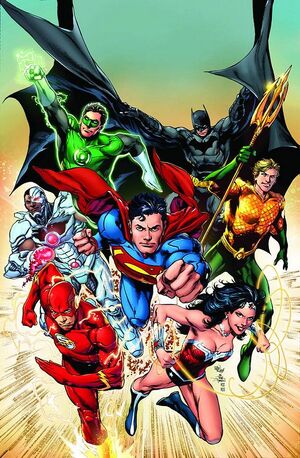 Justice League: Anti-Life is a video game featuring the formation of the world's greatest super team, the Justice League. In-game playable characters include (in order of appearance) Batman, Green Lantern, Superman, Flash, Wonder Woman, Aquaman, and Cyborg.
This game is developed by Rocksteady studios, and is set in Earth-1, the un-altered Injustice dimension. Up to 4 people can play at a time, and in missions with less than 4 characters, the players can swap out from time to time and switch between characters.
Voice Cast
Edit
Batman: Jason O'Mara
Green Lantern: Justin Kirk
Superman: Nolan North
Flash: Josh Keaton
Wonder Woman: Susan Eisenberg
Aquaman: Phil LaMarr
Cyborg: Bumper Robinson
Darkseid: Andre Braugher
Commissioner Gordon: Tom Kane
Carol Ferris: Olivia d'Abo
Lois Lane: Dana Delany
Hippolyta: Susan Sullivan
Steve Trevor: Kevin Conroy
Desaad: Dee Bradley Baker
Kalibak: Fred Tatasciore
Brainiac: John Noble
Lex Luthor: Clancy Brown
Vic Stone's Friend: Adrian Pasdar
Woman Saved by Flash: Ashley Johnson
Silas Stone: Khary Payton
Parademons: Dee Bradley Baker
Perry White: J.K. Simmons
Alfred Pennyworth: Alistair Duncan
Mera: Kristen Bauer
Vulko: Jeff Bennett
Lashina: Lena Headey
Big Barda: Farrah Forke
Bernadeath: Kari Whalgren
Granny Goodness: John DiMaggio
Joker: Mark Hamill
Helicopter Pilot: Dave Boat
Graves: Richard Greico
Martian Manhunter: Carl Lumbly
Story Synopsis
Edit
When the alien god known as Darkseid, and his army of Apokaliptians come to Earth in search of the Anti-Life Equation, the world's greatest heroes are forced to come together to save their planet! But matters only get worse when Superman's worst enemy, Brainiac comes to Earth in hopes of eradicating Darkseid and taking the Anti-Life Equation for himself. After the death of Batman's butler, Alfred, the Justice League pulls themselves together and works as a team to save their world.
Pre-Order Bonuses
Edit
Amazon: By pre-ordering from Amazon, the player will get to play as Darkseid in 2 additional missions, one set on a fictional world where he is searching for the Anti-Life Equation, and the other is an alternate ending to the story where you must kill the Justice League and destroy the Earth.
GameStop: By pre-ordering from GameStop, the player will get alternate costumes for every Justice League member. The costumes provided are the costumes worn by the characters in the story arc "Flashpoint". The player will also get a copy of the animated movie Justice League: the Flashpoint Paradox.
Best Buy: By pre-ordering from Best Buy, the player will get 3 additional missions for the Justice League set after their formation. One where they must defeat the menace of Graves, one where the Martian Manhunter joins the League but later betrays them due to mind control by Gorilla Grodd (which explains his absence in the main cast for Injustice), and lastly where the Justice League must face off against the Injustice League, formed by Lex Luthor!
Ad blocker interference detected!
Wikia is a free-to-use site that makes money from advertising. We have a modified experience for viewers using ad blockers

Wikia is not accessible if you've made further modifications. Remove the custom ad blocker rule(s) and the page will load as expected.