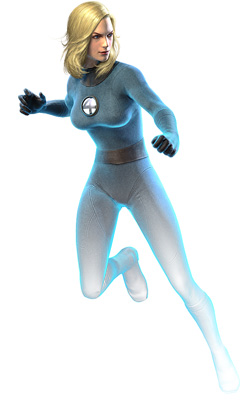 Invisible Woman is a playable character in Avengers: Heroes Disassembled. She, as well as Mr. Fantastic and Human Torch, was confirmed in the Fantastic Four story trailer. She is a Power User. She is voiced by Danica McKellar.
Role in the Story
Edit
S.H.I.E.L.D. Missions
Edit
Super Move
Edit
Invisible Woman makes a force field slam down onto her opponent. She creates invisible bands around their wrists and ankle. She lifts them up, spins them around and slams them down once more. She walks over to them and creates an invisible mace, and hits them in the face with it. As they are getting up, she creates a force field around them and makes it smaller, which crushes them.
Character Trait
Edit
Invisible Woman becomes invisible, and attacks hurt her less.
Intro/Outro
Edit
Intro: Invisible Woman becomes visible and seductively says "Didn't your mother ever tell you not to fight a girl?"
Outro: Invisible Woman laughs and then walks away as she begins turning invisible. The camera then shows the unconscious opponent.
Character Ending
Edit
"Eliminating the New Order was only the first step in avenging her deceased husband. The Invisible Woman personally murdered Iron Man, and hunted down anyone who willingly supported his New Order. Her anger soon overtook her, and her seemingly destroyed as Malice resurfaced and took her over once more. Malice was now the leader of the world, destroying anyone who dare defy her."
Invisible Woman's Malice alternate costume appears in her character ending.
The Invisible Woman does not appear during the final battle against the New Order. It was later explained she had escaped from New York in order to avoid the confrontation with Iron Man.
Danica McKellar previously voiced Invisible Woman in Marvel: Ultimate Alliance 2.
Alternate Costumes
Edit
New Order: Invisible Woman's New Order costume is unlocked by using an archive armory key
Malice: Invisible Woman's costume as Malice is unlocked by completing all of her S.H.I.E.L.D. Missions
Future Foundation: Invisible Woman's Future Foundation costume is part of the Season Pass
Ad blocker interference detected!
Wikia is a free-to-use site that makes money from advertising. We have a modified experience for viewers using ad blockers

Wikia is not accessible if you've made further modifications. Remove the custom ad blocker rule(s) and the page will load as expected.