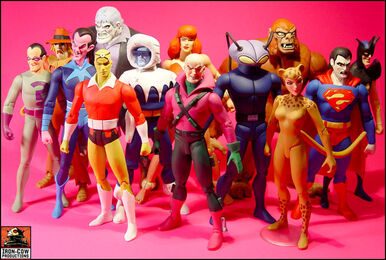 Injustice for all is a upcoming fighting game based around the villians of the DC universe who have been engaged in a civil war in a alternate reality with two sides being lead by Braniac and the Joker. This game features 30 playable characters as well as 15 stages and a new 2 on 2 fighting mode. This game will be realesed April 30th 2014.
Playable Characters
Edit
Major Force
Joker
Death Stroke
Gorilla Grodd
Merlyn
Black Manta
Ra's Al Ghul
General Zod
Black Adam
Atrocitus
Killer Frost
Professor Zoom
Ares
Solomon Grundy
Cheetah
Lobo
Atomic skull
Live Wire
Ma'alefa'ak
Cat Woman
Poison Ivy
Despero
Imperiex
Chesire
Circe
Star Sapphire
Mongol (Unplayable, Boss only)
DLC characters
Edit
Anarky
Heat wave
Black Spider
Sports Master
Jinx
Louie the Lilac
Pre-Order Bonuses
Edit
GameStop: pre-ordering at GameStop gives you acess to the First appearance pack with first appearance costumes for Joker, Solomon Grundy, and Ares.
Amazon: pre-ordering at Amazon gives you acess to the cinematic pack with a Dark Knight skin for Joker, a Man of Steel skin for Zod and a Batman and Robin skin for Poison Ivy.
Wal-Mart: Pre-ordering from Wal-Mart give you the S.T.A.R labs mission pack which includes 20 additional missions and a exclusive Sinestro skin for Atrocitus with re-done animation and fully voiced by Troy Baker.
Collector's Edition: The Collector's Edition comes with a exclusive steel book cover, The Injustice For All game, A statue of Gorilla Grodd battling Solomon Grundy, a digital download of the comic series Savage Run as well as a exclusive hero copy skin pack with a Green arrow skin for Merlyn, a Martian Manhunter skin for Ma'alefa'ak, and a Flash skin for Proffessor zoom.
Metropolis
Gotham City
War World
Atlantis
Wayne manor
S.T.A.R labs
Legion of Doom
Hall of Injustice
Joker's asylum
Gorilla City throne
Gorilla City street
Lazarus pits
Red Latern home world
Professor zoom museum
Stryker's island
Story Mode
Edit
To be added when I have time
S.T.A.R labs missions
Edit
Same as above
Downloadable Content
Edit
To be added at a later date
Ad blocker interference detected!
Wikia is a free-to-use site that makes money from advertising. We have a modified experience for viewers using ad blockers

Wikia is not accessible if you've made further modifications. Remove the custom ad blocker rule(s) and the page will load as expected.