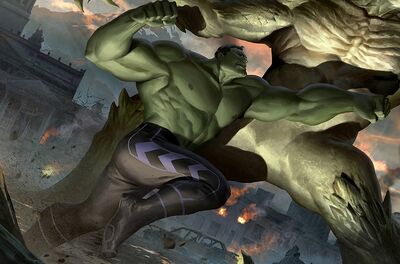 Hulk is a playable character in Avengers: Heroes Disassembled. He was revealed in his own story trailer, which opened up new possibilities for a storyline. The main question about Hulk was who he sided with: The New Order or the Secret Avengers. He is a Power User. Hulk is voiced by Fred Tatasciore.
Role in the Story
Edit
S.H.I.E.L.D. Missions
Edit
Super Move
Edit
Hulk punches his opponent in the face, but before they can fall back, he grabs their head and slams them into the ground. He then proceeds to beat them around as if they were a rag doll, and he then jumps up and body slams them into the ground.
Character Trait
Edit
Hulk gets angrier and he increases in size. He takes very minimal damage and his attacks are stronger, but he becomes slower.
Intro/Outro
Edit
Intro: Bruce Banner is standing in the arena, but he begins stumbling. He rips off his glasses and he mutates into the Hulk.
Outro: Hulk says "You should have left Hulk alone." He then walks away and he is seen jumping into a desert, watching the sun set.
Character Ending
Edit
"After Hulk abolished the New Order, he and his allies returned to their home dimension. But Hulk no longer trusted Iron Man, or any of the other Avengers. Hulk soon quit the team and took refuge in the desert. S.H.I.E.L.D. grew weary of Hulk's disappearance, fearing their would be an attack soon. They sent several squads after him to bring him in for questioning, but Hulk wasn't going down without a fight. In the midst of the battle, the Black Widow was successful in stealing Hulk's blood. After reporting back, S.H.I.E.L.D. began mass-producing his blood in order to make an army of Hulks."
Hulk's alternate counterpart is one of the few heroes to willingly support Iron Man's New Order, believing that if he was a member the government would leave him alone.
Fred Tatasciore has previously voiced the Hulk in Wolverine and the X-Men, Avengers: Earth's Mightiest Heroes, Ultimate Spider-Man, Avengers Assemble, and Hulk: Agents of S.M.A.S.H..
Alternate Costumes
Edit
New Order: Hulk's New Order costume is unlocked by using an archive armory key.
Red Hulk: Hulk's appearance as Red Hulk is unlocked by completing all of his S.H.I.E.L.D. Missions
Imperfect Futures: Hulk's Maestro costume is part of the "Imperfect Futures" Pack, pre-ordered from GameStop
Classic: Hulk's classic costume is unlocked by performing Hulk's super move on Loki
Ultimate Successors: Hulk's appearance as Nerd Hulk is part of the "Ultimate Successors" DLC Pack
Ad blocker interference detected!
Wikia is a free-to-use site that makes money from advertising. We have a modified experience for viewers using ad blockers

Wikia is not accessible if you've made further modifications. Remove the custom ad blocker rule(s) and the page will load as expected.