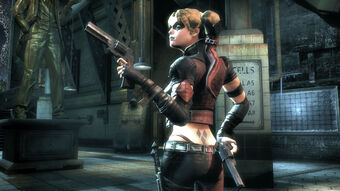 Harley Quinn is a playable character in Injustice: Return of the Gods, sequel to Injustice: Gods Among Us. She was first seen in a story trailer, when she was scene fighting against Gorilla Grodd. She was later confirmed in a gameplay video.
Events of Injustice
Edit
Super Move
Edit
Harley pulls out a bottle of Joker venom, and she sprays the opponent, causing them to laugh uncontrollably, and she stabs them in the stomach, before grabbing the hilt and kicking them away from the knife.
Character Trait
Edit
Harley pulls out a grenade, which causes her opponent to become cautious about using attacks, and she eventually throws it at them.