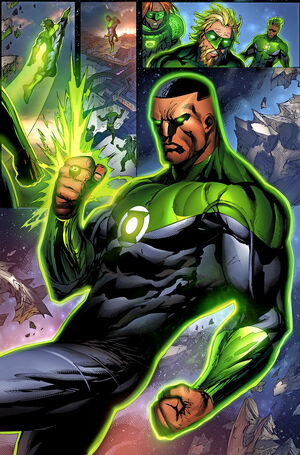 Green Lantern is a playable character in Injustice: Return of the Gods, sequel to Injustice: Gods Among Us. He was confirmed in a gameplay video alongside Wonder Woman. He replaces Hal Jordan as the playable Green Lantern.
Events of Injustice
Edit
Super Move
Edit
Lantern opens a portal behind his opponent before throwing a large hammer at them, knocking them into a dimension filled with green energy. It puts them through greats amount of pain and Green Lantern enters, forcing them through another portal. They appear in space, and he spins them around before throwing them back down to the arena.
Character Trait
Edit
Lantern covers himself with green energy, which makes his attacks stronger.
Ad blocker interference detected!
Wikia is a free-to-use site that makes money from advertising. We have a modified experience for viewers using ad blockers

Wikia is not accessible if you've made further modifications. Remove the custom ad blocker rule(s) and the page will load as expected.