Green Goblin is a playable character in Revengers: Demons Among Us. He is classified as a hybrid user. Various parts of his Company are stages in the game.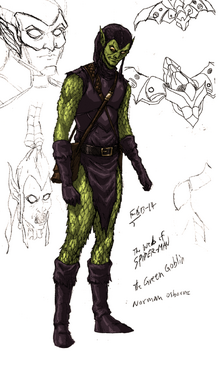 Biography
Edit
Weapons industrialist Norman Osborn wanted to make a serum that could create supersoldiers for the military but his plan backfired and turned him into the Green Goblin, One of Spiderman's most dangerous enemies.
Powers and Abilities
Edit
Intro/Outro
Edit
INTRO: Norman Osborn is seen finishing a business meeting where he takes an elevator to the deepest part of Oscorp which reveals his Glider and Armor. He thens flies into the battle yelling "I AM THE GOBLIN"
OUTRO: Goblin rams into the opponent with his glider and is then seen flying around laughing maniacally.
Character Trait
Edit
Goblin Glider- Green Goblin summons his glider and can fly around the battlefield until he gets hit.
Move List
Edit
Super Move
Edit
Oz Compound- Goblin throws a smoke bomb at the opponent confusing them. He then slits their throat with his arm blades. Afterwards he pushes some buttons on his gauntlet and zaps the opponent with his electric discharges and his glider flies in which he flips over and lands on causing it to impale his opponent.
Character Ending
Edit
Alternate Costumes
Edit
-Dictatorship:Finish Arcade Mode using Goblin
-Hobgoblin:Defeat Goblin with Goblin
-Sam Raimi series: Part of Marvel Movie DLC
-Marc Webb Series: Pre Order the Game
-Demogoblin:Rate the iOS version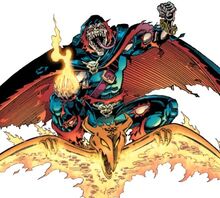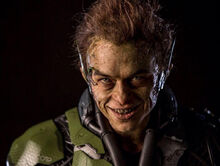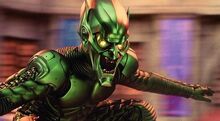 Ad blocker interference detected!
Wikia is a free-to-use site that makes money from advertising. We have a modified experience for viewers using ad blockers

Wikia is not accessible if you've made further modifications. Remove the custom ad blocker rule(s) and the page will load as expected.