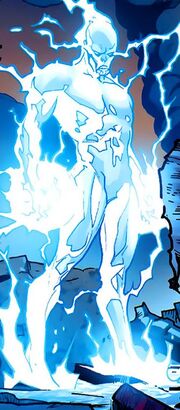 Electro is a playable character in Avengers: Heroes Disassembled. He was one of the original 6 characters confirmed, alongside Spider-Man, Captain America, Storm, Mystique, and the Thing. He is a Power User. He is voiced by Crispin Freeman.
Role in the Story
Edit
S.H.I.E.L.D. Missions
Edit
Super Move
Edit
Electro throws a ball of electricity at the opponent. He then teleports behind them and grabs their shoulder before holding his other hand up and making lightning flash down and electrocute them. He pushes them back, and then has multiple lightning bolts hit him, as he aims one extremely concentrated blast on his opponent.
Character Trait
Edit
Electro teleports right behind his opponent and electrocutes them.
Intro/Outro
Edit
Intro: On a random street, a sewer grate begins vibrating before being blasted off by electricity. Electro flies out angrily and then flies into the arena.
Outro: Electro walks over and grabs his opponent before making lightning flash down and electrocute them repeatedly.
Character Ending
Edit
"Electro had defeated Iron Man and his New Order, as well as any other hero from the Secret Avengers. He was soon apprehended by authorities, but he refused to be detained. He escaped, and recruited every villain he had previously worked with in the New Order, and his new Sinister Legion would rule New York."
Before any script had been written, Electro was in consideration to be a main character, but he later was defaulted to a New Order villain.
Crispin Freeman has previously portrayed Electro in The Spectacular Spider-Man.
Crispin also voices the New Order version of Iron Man.
Alternate Costumes
Edit
New Order: Electro's New Order costume is unlocked by using an archive armory key.
Ends of the Earth: Electro's costume from the Ends of the Earth story arc is unlocked by completing all of his S.H.I.E.L.D. Missions
Classic Villains: Electro's classic costume is part of the "Classic Villains" DLC Pack
Ad blocker interference detected!
Wikia is a free-to-use site that makes money from advertising. We have a modified experience for viewers using ad blockers

Wikia is not accessible if you've made further modifications. Remove the custom ad blocker rule(s) and the page will load as expected.