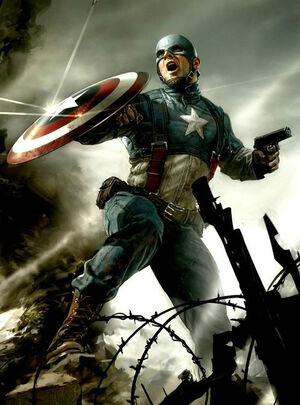 Captain America is a playable character in the game
Injustice: Broken Alliance
. He is a power user and is voiced by Chris Evans.
Events in Broken Alliance
Gameplay
Movelist
Basic
Combo:
Special:
Shield Toss: Captain America throws his shield at his opponent but it comes back like a boomerang
Gunshot: Captain America shoots his pistol twice
American Parry: Captain America shields himself with his shield, absorbing any projectile and deflecting it back
SMG: Captain America pulls out his SMG and fires it
Shield Shoulder: Captain America straps his shield to his arm and shoulder's his opponent
Supermove
Captain America pulls out his shield and pistol and tosses the shield at his opponent. It hits them and flies past them offscreen. Captain America shoots him with his pistol, pushing them backwards into the shield, which was flying back, hitting them and pushing them back towards Captain America. He roundhouses the backwards while he catches his shield.
Ad blocker interference detected!
Wikia is a free-to-use site that makes money from advertising. We have a modified experience for viewers using ad blockers

Wikia is not accessible if you've made further modifications. Remove the custom ad blocker rule(s) and the page will load as expected.