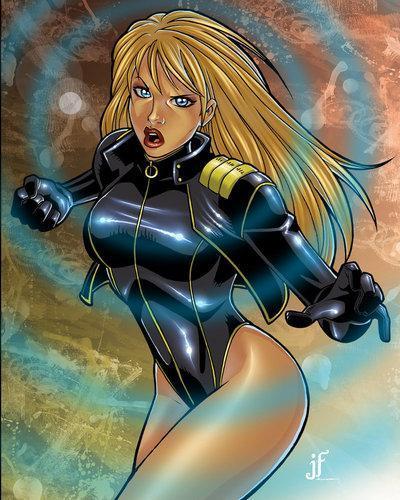 Black Canary is a playable character in Injustice: Clash of the Titans. She was one of the first 6 character revealed alongside Batman, Wonder Woman, Cyborg, Poison Ivy, and Lobo.
Events of Injustice
Edit
S.T.A.R. Labs Missions
Edit
Super Move
Edit
Black Canary slaps her opponent and screams at them, causing them to fall to the ground. She walks up and steps on their throat. She then begins screaming at them repeatedly.
Character Trait
Edit
Black Canary sends three painful screeches at her opponent, taking more health away than usual attacks.
Intro/Outro
Edit
Intro: Black Canary is about to put on her jacket, but the camera somewhat zooms in on her cleavage, and slows down the motion of her putting the jacket on. She then pulls her hair out and flips it, holding her fists up.
Outro: Canary stretches her arms and kneels down to her opponent. She says "It's alright, you couldn't have won anyways." She pats them on the head before slamming it onto the ground. She then strikes a pose.
Character Ending
Edit
"Darkseid had been defeated, and Canary had been honored by the President for saving the Earth. However, she received no special treatment from the Justice League, or Green Arrow. This eventually led to her resigning her membership and returning to fighting crime solo. However, she soon discovered she worked better with a team, and she decided to reform the Birds of Prey, this time making it more than just a team of vigilantes. This time, with the President's support, Canary formed Birds of Prey, Incorporated."
Alternate Costumes
Edit
Insurgency: Canary is fitted with a costume she would have worn as a member of the Insurgency, had she been in Injustice: Gods Among Us. It is unlocked by using an archive armory key.
New 52: Canary's New 52 costume is unlocked by completing her chapter in the story mode.
Huntress: Black Canary's appearance as Huntress, a costume she has never actually worn in comics, is unlocked by completing all of her S.T.A.R. Labs Missions
Ad blocker interference detected!
Wikia is a free-to-use site that makes money from advertising. We have a modified experience for viewers using ad blockers

Wikia is not accessible if you've made further modifications. Remove the custom ad blocker rule(s) and the page will load as expected.