Avengeance: Destruction Around Us is a fighting videogame featuring 44 heroes and villains from the Marvel Universe and 20 fighting arenas. The storyline of the game contains elements of the ¨Civil War¨ Storyline, as well as elements of Injustice Gods Among Us. The game´s launch date is May 15th 2015.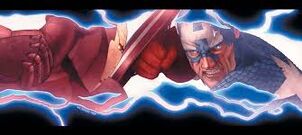 In a an alternate universe, during a battle between The Avengers and The Masters of Evil, Norman Osborn reconstructed Ultron putting a nuclear bomb inside his robotic body. Ultron exploded during a fight against Iron Man destroying NYC and killing millions of lifes including Iron Man´s best friend James Rhodes and his wife Pepper Potts and his unborn daughter. Depressed, Stark created thousands of Ultron´s prototypes in order to protect the world. He formed the Illuminati Regime along with fellow Avengers; Thor, Captain Marvel and Spiderman. In order to stop Iron Man, Captain America formed the Howling Avengers, a small group of people consisting in himself, Winter Soldier, Falcon, Wolverine, Black Widow and Hawkeye. During an assault in their underground base, Illuminati members Captain Marvel and Spiderman killed Hawkeye, Widow, Logan, Bucky and Falcon. After that knowing that he can´t defeat the Illuminati alone, Captain America with the help from Harry Osborn, builded a time machine to bring the past´s versions of Spiderman, Thor, Wolverine, Black Widow, Hawkeye and Captain Marvel in order to help him to defeat Iron Man´s regime and return back the world´s freedom.
Playable Characters
Edit
Heroes
Villains
Loki
Dr. Doom
Magneto
Mystique
Sabretooth
Deadpool
Abomination
Carnage
Venom
Electro
Norman Osborn (Iron Patriot)
Harry Osborn (Green Goblin)
Taskmaster
Super Skrull
Amora The Enchantress
Skruge The Executioner
Red Skull
Winter Solider
Ultron
Mephisto
Songbird
Dormammu
Confirmation Order
Spiderman
Venom
Captain America
Human Torch
Songbird
Storm
Iron Man
Hulk
Thor
Loki
Amora The Enchantress
Skurge The Executioner
Wolverine
Gambit
Cyclops
Jean Grey
Magneto
Sabretooth
Mystique
Scarlet Witch
Iron Patriot
Green Goblin
Black Widow
Hawkeye
Falcon
Winter Solider
Red Skull
Black Panther
Ultron
Vision
Dr. Doom
Mr. Fantastic
Invisible Woman
Thing
Captain Marvel
Super Skrull
Taskmaster
Carnage
Deadpool
Abomination
Mephisto
Doctor Strange
Dormammu
Ad blocker interference detected!
Wikia is a free-to-use site that makes money from advertising. We have a modified experience for viewers using ad blockers

Wikia is not accessible if you've made further modifications. Remove the custom ad blocker rule(s) and the page will load as expected.